Posted by Walter
I was right about..............

(1) Texas Tech dominating Texas A & M. That Aggies pass
defense is atrocious. They allowed Kyle Wright to look competent, and they made Graham Harrell, Michael Crabtree and Co. look downright unstoppable. The Red Raiders are a different team playing in Lubbock and their season ender against Oklahoma could be very interesting.....(2) Will Muschamp and the Auburn defensive coaching staff. Another week, another brilliant defensive game plan by the best D-Coordinator nobody is talking about, holding Felix Jones and Darren McFadden to a combined 85 yards rushing.....(3) The Louisville offense being too good for a 10.5 spread. I don't care how bad your defense is, if you have Brian Brohm and Harry Douglas you should be able to cover a number that big every time, especially against a team like Cincinnati that isn't used to the spotlight.....(4) Jacob Hester being the best player on that LSU offense. He is their heart and soul, and if he doesn't tweak an ankle they may still be undefeated. No way he doesn't get into the endzone on 4th down.....(5) The Oregon Ducks and their dynamic offense. My Pac-10 sleeper pick is looking great and if they don't fumble on the one yard line against California this is the #1 team in the nation.

I was wrong about..............

(1) Missouri having more to play for than Oklahoma. Just when we thought the upsets were over, LSU and California lose allowing the Sooners to jump right back into the national title hunt.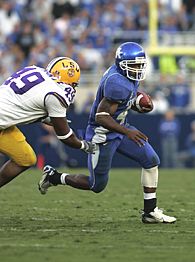 Mizzou didn't have the horses to beat Oklahoma in Norman, and as long as Bob Stoops' team keeps winning they'll be in the hunt for the national title.....(2) Kentucky, more so about the Wildcats than the Tigers. LSU did not play up to snuff defensively, but lets give Kentucky a lot of credit. They made plays down the field against the LSU defense that no other team in America has been able to make this year.....(3) The Ohio State Buckeyes. I know they still haven't played anyone, but it is downright impossible to ignore what they are doing. If the Big-10 is as bad as we all think it is (it is), they have a cakewalk to the national title game.....(4) Boston College destroying Notre Dame. They won the game handily, but BC wasn't exactly dominant. Coach Jags will earn his money next Thursday when BC travels to VTech for a nasty thursday night matchup that will decide the 2007 fate of both teams.....(5) About West Hempstead high and our faithful reader Nestor Aguiar. I'm not gonna talk badly about my cousin's team, but I Nestor, you were downright awesome on Saturday. Congratulations on the win, and thanks for reading the323......but Roslyn's coming for you guys next year.