Posted by Frazier
This year, the 323 is going to pay a little more attention to the Heisman chase. While we try to focus on college football as the ultimate team sport, one of the great parts of the game are the incredible individual efforts. Starting this week, we'll each post our top fives, and we'll be trying to put together an expert ballot.

If you're interested in being a Heisman voter, just contact us!

We waited until now to give players a chance to show what they've got. Preseason Heisman hype simply doesn't make sense. It's just a guessing game. We're here to evaluate what we've seen. Here's what I've been seeing:

1) Darren McFadden, RB/QB/WR, Arkansas

He's super-human. I'm pretty sure he gets his powers from the yellow rays of Earth's sun. It's really the only explanation. He almost single-handedly beat Alabama last week, and he's the difference between an 9-10 win team, and one that struggles to win 5. There's nothing he can't do. My special lady friend has been hearing me gush about McFadden for weeks now, and I think she was starting to get jealous. Then she saw him play. "Wow, he really IS fun to watch!" Now, she's a Penn St. gal herself, so she loves a bruising running back, and McFadden was certainly delivering the lumber to Tide defenders on Saturday. He is an absolutely exceptional talent, and an absolute pleasure to watch. Arkansas games are appointment viewing with the swiss army running back on the field.
Darren SHOULD be flexing, since he's been flattening defenders all year.

2) Andre Woodson, QB, Kentucky
He out-dueled Brohm, and won the honor of coming in second to McFadden. Woodson is an absolutely prototypical quarterback, and he already has the highlight for his Heisman video (the game winning pass to beat Louisville in the final seconds). He's completed almost 70% of his passes, has 9 TD's and no interceptions and a win over a top ten team. Right now, no one is riding higher than Andre.
Andre will probably get overlooked battling in the brutal SEC,
but he's as good as they come.

3) Pat White, QB, West Virginia
It has become clear that Pat White makes this offense move. He is the one responsible for making the decision to hand off or keep on virtually every play. So when it looks like Slaton is completely untouched on a play, it's because White made the correct read. Everything Slaton does shows up on the stat sheet. But everything Slaton does is influenced by things that White does, even though you'll never see it in a box score. White is the sort of game-changer you have to watch to appreciate. With the emergence of Noel Devine, it will cut into Slaton's supporters, and should solidify support behind the dynamic White. He is a football player, pure and simple. If you watched the Maryland game, you consistently saw him read the defense and make the right decision. If you read the summary the next day, it looked like he had a down game. Let's hope the Heisman voters actually watch the games!
This is a combination that gets Heisman voters drooling.


4) Steve Slaton, RB, West Virginia
The big man hinted at one of the concerns over Slaton earlier this week. He doesn't seem to be quite the burner he was last year. That might also be because of super-recruit Noel Devine showing off his blazing speed. Still, Slaton leads the nation in scoring, and has been pretty much unstoppable this year. If his numbers hold, he stands an excellent chance of winning the award. I just can't put him above White, since he's the more important player on that team. That said, Slaton is the hammer. White is the engine, but Slaton's the tires.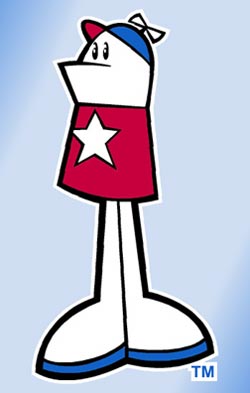 Steve's been a little less "The Flash" and a little more
"Homestar Runner" this season.


5) Dennis Dixon, QB, Oregon
I really wasn't sure who to put here. There are plenty or interesting options. I couldn't go with Ray Rice, since he hasn't played anyone (and I can't have another one of those). Matt Ryan may be worthy, but his uneven performance against NC State made me nervous. Brennan REALLY hasn't played anybody. This decision basically came down to Tim Tebow or Dennis Dixon. I chose to give it to Dixon mostly because he had to go on the road against a talented team, while Tebow has been safely ensconced at home. We know Dixon has tremendous talent, but he's finally putting it to good use. He has thrown seven touchdowns and no interceptions, while going for almost 300 yards on the ground. It's the decision-making that really leaps out at me. If he continues to make the right call with the ball in his hands, he's as good as any quarterback in America. This pick may look silly a few weeks from now, but I'm giving credit where it's due. And Dixon has earned it.