Posted by Walter
Darren McFadden, Matt Ryan, Glen Dorsey....that's the past. Who's the future? Who's the next big thing? You got questions, I got answers.


Dan LeFevour QB Central Michigan

Already a 323 favorite, this kid is about to explode onto the national scene. Playing in a conference where quarterbacks rule (the MAC), LeFevour has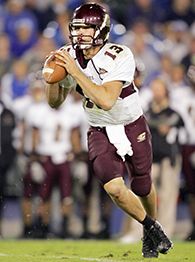 been by far the best player at the position for the past two seasons (including his true freshman year). Though not blessed with the same arsenal of next level skills as former, and more well known, MAC passers Ben Roethlisberger or Byron Leftwich, LeFevour is every bit as dynamic as those two and will certainly hear his name called by someone on draft day 2010. LeFevour certainly has the mind boggling numbers. In his Freshman and Sophomore seasons, LeFevour has over 6,600 passing yards, over 1,600 rushing yards, and 79 total TD(!!!). This includes his monstrous Sophomore campaign where he came 1 rushing TD shy of joining Tim Tebow as the only 20 passing TD/20 rushing TD players in NCAA history. Oh, and if you think he can't compete with the big boys, think again. In their bowl game against Purdue, LeFevour torched the Boilermakers to the tune of 292 passing yards and 4 TD (with 0 INT by the way), to go along with his 114 rushing yards and 2 more TD. With Georgia, Purdue, and Indiana all on the schedule in 2008, LeFevour will have many chances to make a name for himself. Here's betting he'll do just that and more, perhaps pushing Tebow to become the first ever 30/30 man!
Josh Adams RB Wake Forest
A year younger than LeFevour, Adams is another kid who is ready for huge things. That said, unlike LeFevour Adams doesn't necessarily have the monstrous numbers to place him anywhere near the national radar…..so I think you're just going to have to trust me on this one. Adams' Freshman numbers were solid enough, 953 rushing yards, 4.4 average, 11 TD, but they don't necessarily do this kid's tremendous talent justice. At 6'0 and 180 lbs. Adams isn't a true between the tackles runner. But before you decry his lack of toughness, consider that inside running is not really what Wake Forest does. Jim Grobe's innovative spread attack is predicated almost entirely on attacking the edges of the defense, off tackle. A slippery back with uncanny vision like Adams was practically built to play that style of football. After a rocky start to the 2007 season, Adams really picked up his game for the second half. In Wake's final eight games, Adams ripped off a total of 730 yards and 9 TD. Expect more of the same from this home run hitter, only this time over the course of an entire season. 1,500 yards and 15 TD is not out of the question as Wake looks to find its new offensive focal point with the departure of all everything WR Kenneth Moore. They won't have to look very hard.
Tom Brandstater QB Fresno State
Playing in the WAC it is understandable that Mr. Brandstater flew totally under the radar last year. With Fresno a bit down, it was easy for him to be overshadowed by bigger WAC stars like Colt Brennan and Ian Johnson.
Well, expect a reversal of fortunes for the senior in 2008. At 6'5'' and 220 lbs., and possessing a strong arm, Brandstater is the best Fresno QB since David Carr. More importantly, though, is the fact that also like Carr Brandstater has shown marked improvement in his years under Pat Hill. While his numbers weren't exactly gaudy in 2007, his 2,600 passing yards and 15:5 TD ratio were dramatically better than his 1,500 yards and 13:14 ratio in 2006. If we look even deeper, we will see that Brandstater actually improved as the season went along, doing his best work at the end of the year. In his last five games Brandstater put up 1,143 yards and 8 TD versus only 1 INT. He also had his two best performances of the year in that span against BCS teams Kansas State and Georgia Tech, proving that Brandsater can play with the big boys. With Fresno losing one of its top offensive weapons in TB Clifton Smith, expect the Bulldogs to lean on the talented Brandstater and the passing game which also returns its top three receivers. While Brandstater isn't going to go number 1 overall like Carr, in a weak year for senior quarterbacks Brandstater could rise to the top with a strong senior campaign. With Fresno opening the year with three BCS opponents (@ UCLA, @ Kansas State, Wisconsin), expect Brandstater to come out firing and make a name for himself immediately.
Aaron Kelly WR Clemson

Like I wasn't about to give a shout out to my boy Cullen Harper's main man! It's not entirely clear to me why Kelly is still flying way under the radar. At 6'5'' and only 180 lbs., Kelly looks more like a high school basketball
player than a division one wideout (to call him lanky would be an understatement), but he sure does play the part well. In fact, Kelly was the number one reason Cullen Harper turned in the season that he did, hauling in 88 balls for 1,081 yards and 11 scores. What is even more impressive, are the numbers that Kelly put up against some of the stiffer defenses the Tigers faced. Against VTech, and their stable of future NFL defensive backs, Kelly ran roughshod to the tune of 11 grabs for 174 yards and a score. Kelly similarly torched BCS powers Florida State (5 for 98, 1 TD), Wake Forest (10 for 93, 2 TD), and South Carolina (9 for 134). With nearly the entire offense returning in 2008, and teams gearing up to stop the two headed running back monster (all American candidates James Davis and CJ Spiller), look for Harper to Kelly to become a national refrain.
Jermaine Gresham TE Oklahoma

OK now we're busting out the big guns. Lost in the modern age where speed and 40 times are all scouts look for, are player like Gresham. Big, strong, nasty, throwback football players like Gresham. Gresham is a TE, but you'd never guess it if you compare him to some of the other so-called "elite" at the position. Gresham, only a
rising junior, stands a chiseled, 6'5'' 265 lbs. Stamding next to his more heralded counterparts like Wisconsin's Travis Beckum (6'4'', 220 lbs.) and Missourri's Chase Coffman (6'4'', 240 lbs.), a passerby would think Gresham was a offensive tackle. Well, truth be told, he actually blocks like one, something Coffman and particularly Beckum seem practically allergic to. But don't think Gresham is a one trick pony. While he may not blaze the 40 like Beckum and Coffman, the man knows how to catch the football as evidenced by his 38 catches for 518 receiving yards will attest to. Gresham is particularly effective in the red zone, where he uses his size and strength to impose his will. Of Gresham's 38 catches in 2007, a whopping 11 went for scores. For those scoring at home that is only two less than Coffman and Beckum had COMBINED! Despite Sam Bradford's return in 2008, the loss of Jr. wideout Malcolm Kelly will leave the Sooners offense a lot of yards to make up. Expect Coach Bob Stoops to lean heavily on Gresham as a blocker and receiver to make up those numbers. With Juaquin Iglesias stretching the field, Gresham should easily be able to surpass 50 catches in 2008……that is when he isn't putting some poor defensive end on his back.
The Boston College Linebacking Corpse
The talk all offseason will be how BC will cope with the loss of star QB Matt Ryan. While not to minimize the loss of Ryan, the transition to whatever QB Coach Jags chooses will be made a lot easier by the potentially devastating defense the Eagles will be able to put on the field in 2008. By my count, the Eagles have a grand total of five potential all conference linebackers on defense, and that doesn't even take into account leading sacker Alex Albright (DE), and potential NFL draft picks BJ Raji (DT) and Ron Brace (DT). In fact, with those three occupying blockers, the Eagle's stable of thoroughbred linebackers may be free to roam the
sidelines. OK, so who, exactly, am I talking about? Well, most people think it begins and ends with Brian Toal. Not true. While Toal is an exciting talent, and will be a hugely stabilizing force in the middle if healthy, he is not the end all of the defense. Coach Jags has assembled a wonderful mix of speedy athletes and muscular thumpers in his linebacking corpse. First the athletes. Anyone who reads the323 knows that I have absolutely love the OLB tandem of Mark Herzlich and Kevin Akins, both rising Juniors. Herzlich is not the fastest guy on the field, but he is a 6'4'', 230 lbs. hybrid backer who always seems to make big plays. Akins, on the other hand, usually is one of the fastest guys on the field. You may remember seeing him return kicks for the Eagles (that's right, a LB returning kicks), or you may remember watching him dominate the Miami Hurricanes offensive line to the tune of 3 sacks in the fourth quarter of their '07 matchup. Neither Herzlich or Akins are really an every down linebacker right now, but that is OK because……the Eagles have two classic "thumpers" to trot out there on obvious running downs. Aside from Toal, Mike McLaughlin (6' 250) and Robert Francois (6'2'' 240) are two of the baddest guys you'll find. Both are adept at taking on blocks and plugging holes, and they are two of the hardest hitters on the team. With the kind of talent and size the Eagles have up front, teams are going to have little to no success running the ball in 2008. The true test will be Nov. 1 when Clemson comes to town. By then the Eagles may be putting up historically good numbers against the run. My guess is they keep it going.
The Colorado Buffaloes
OK, so my South Carolina pick from last year didn't turn out so great. BUT, I deserve another shot seeing as the Gamecocks rose all the way to the top 10 (making me look like a genius) before injuries decimated their season (making me look like a fool). Inasmuch, I give you the 2008 Colorado Buffaloes as the "Next Big Team." Why do you ask? Well, they've got everything you look for in a sleeper team: (1) a manageable schedule, (2) a great coach, and (3) returning talent. Lets take them one at a time.
(1) The Schedule – Look, the Big 12 is never easy. But Colorado is in the Big 12 North, and the 2008 schedule shakes out very nicely for them. The trip to Missourri will be a bear, but the only other conference road games are at Kansas (due for a letdown after a magical 2007), and at Texas A & M and Nebraska (both rebuilding
under new coaches). True the cross country trip to play Florida State in Jacksonville will be difficult, but this ain't exactly your father's FSU. Missing Oklahoma is huge for the Buffs, as is getting Texas in Boulder on homecoming weekend. If Colorado slips past FSU in the third game, they should enter the Texas game at 4-0 and have Folsom Field simply rocking.

(2) The Coach – I know Dan Hawkins had a rough first year in Boulder, but you simply cannot ignore what he did in 2007. Colorado won six games, including wins over #3 Oklahoma, Nebraska, and at Texas Tech. Moreover, of their 7 losses, 6 were against teams that were ranked for much of the season (Arizona State, Florida State, Kansas, Kansas State, Missouri). The Buffs improved greatly under Hawkins, and their record could have been even better if for just a bit of luck in the scheduling department.
(3) Returning Talent – It is everywhere in Boulder. QB Cody Hawkins (yep, the coach's son) had an up and down year, but showed marked improvement at the end of the year. His 17 interceptions need work, but his
3000+ yards and 22 TD look very nice. He is young, but is smart (I said he was a coach's son) and should be one the best returning signal callers in the Big 12. Hawkins also has the good fortune of having his top two receivers, Scotty McKnight and Josh Smith, back. Both players were dynamic as true Freshman and should fare much better with extra seasoning. The Buffs did lose leading rusher Hugh Charles, but I don't think you are going to hear to many cries of sorrow. Enter Darrell Scott, #1 running back recruit in the nation. There is a reason he wanted to come to Boulder. Namely, great offensive lines, and playing time right away. Now am I saying this kid is going to be Adrian Peterson? No, but he is damn good and is a mortal lock for 1,000 yards and 10 TD as a true freshman. On defense, losing all world linebacker Jordan Dizon hurts, but the Buffs return more than enough talent to compete. Safety Daniel Dykes joins linebackers Jeff Smart, and Brad Jones, to form a solid nucleus, with leading sacker George Hypolite teaming with Brandon Nicholas to form one of the best interior pass rushing tandems in the nation.
The bottom line is this Buffaloes team is loaded for 2009 and beyond. With a manageable schedule in 2008, Christmas may come early in Colorado.