Posted by Walter
Quarterback - Troy Smith, Ohio State

Walter: Frankly this selection wasn't even close. Troy Smith has been the best p
layer on the best team all year. What is most remarkable about Smith, though, is his development. Since 2004, Smith's TD passes have just about doubled each season (8, 16, 30) while his INT have remained relatively constant (3, 4, 5). Most impressive is that his completion percentage has improved each year (55.7%, 62.9%, 67%). The bottom line is that in 2004 Smith was considered a running quarterback who couldn't throw. Today he is the best passer in college football......oh yeah and he can still kill you with his legs. It would not be a stretch to say that Troy Smith has developed more in his four years at college than any player in the history of the game.

Runner Up - Pat White, West Virginia

Running Back - Darren McFadden, Arkansas


Frazier - Wow, that's all I can really say about the dominating McFadden. He is like a swiss army running back. Whether lining up under center, in the backfield or at wideout, or even returning punts or kicks, he was explosive all over the field. There wasn't anything he couldn't do. But this honor reflects his ability to tote the ball, and damn, he could do it. He is a physical freak, punishing tacklers by running over them, or throwing a piston-like stiff arm into their grill, or simply blazing past them in the open field. He's fast, he's strong, he's a bad mother-fucker. He's an all-american.



Runner Up - Mike Hart, Michigan

Fullback - Brian Leonard, Rutgers

Walter: This selection isn't about numbers at all. Brian Leonard came into his senior season as arguably the best player in the history of his school. He still holds numerous rushing, recieving and scoring records, and is generally revered as an all time great Scarlet Knight. So what did he get for all his troubles? Well roughly 100 less carries, 400 less rushing yards,
and 10 less trips to the endzone. Yet, Leonard could not be happier. Leonard is the complete embodiment of a team leader. When Ray Rice emerged, he put his ego aside and took a backseat because it was better for the team. He worked hard to improve as a blocker, because that is how he felt he could best help the team. Not once did he complain about losing touches, even though he is a more than capable rusher. Where most players would pout and bemoan the success of his team without him, Brian Leonard thrived. He led Rutgers to its best season ever doing the things that his team needed him to do. Brian Leonard deserves to be on this all america team because of his leadership and selflessness. Like I said, this selection has nothing to do with statistics.

Runner Up - Jacob Hester

Wide Recievers - Calvin Johnson, Georgia Tech & Robert Meachem, Tennessee

Frazier: Well, this one is easy. Calvin Johnson is a top five selection in the draft.
He's very tall, very fast, very physical, and he has great hands. Whether he was leaping over defenders, winning jump balls, or making one-handed catches, he was a force. While Meachum might have been a numerical selection, Johnson's nod is based on dominance. Sure, he had the numbers to back them up, but he was just special every time out. With the erratic (and that's being nice) Reggie Ball at quarterback, Johnson was the focal point of every defense he faced. He was expected to be the best receiver in the country this year, well, he was.


Walter: Robert Meachem's selection is all about numbers. All you need to know is that playing in the SEC he finished third in the nation in recieving yards behind two guys who play at New Mexico St. and UTEP. Meachem was a statistical horse all season, and he played his best in most of Tennessee's biggest games. One of the enduring performances of the entire season remains his 5 catch, 182 yard, 2 TD masterpiece against California, when he repeatedly took short passes and turned them into long gains. Meachem posted six 100 yard games in total, three of which came in conference play. He scored touchdowns in all but 4 of his team's games, and registered multiple scores on three occasions. While there may be more talented wideouts than Meachem, the did not come to play every week like he did.

Runner Up - Jeff Samardzjia, Notre Dame

Tight End - Johnny Harline, BYU


Frazier: Not exactly a close one. As the top receiver for John Beck, who had an impressive season, Harline was an easy choice. He had almost 800 yards receiving and 11 touchdowns. His clutch grab to beat Utah was just one example of the way he changed games. Defenses had to keep Harline in their sites at all times, and he was able to exploit the middle of the field to create opportunities. In a year when few tight ends made noise, Harline was easily the best of the bunch.

Runner Up - Travis Beckum, Wisconsin

Offensive Line

Steve Vallos, Wake Forest


Walter: Vallos was arguably the most dominant offensive lineman in america all season. Wake Forest lost their starting QB and two starting RB's early in the season but kept humming along, thanks in large part to the steady play of their offensive line led by Vallos. Much of freshman QB Riley Skinner's success must be attributed to Vallos protecting his blind side all season.




Joe Thomas, Wisconsin


Walter: Thomas is the best offensive line prospect in the college game today and proved in this season. Coming back from a horrible knee injury he suffered in last year's bowl game, Thomas proved to be a dominant run blocker and elite pass blocker for the Badgers this year. At 6'8'' and well over 300 pounds, Thomas was just too much for most college ends. His performance against Michigan's Lamar Woodley was a virtual clinic on how to play left tackle.

Jake Long, Michigan


Walter: No surprise here, a Michigan lineman on an all america team. Long was a relative unknown at the beginning of the season, but the Junior proved that he belonged in the same sentence as great Michigan tackles like Jon Jansen, Jeff Backus, and Jon Runyan. Michigan relied heavily on the running game, especially when Mario Manningham was hurt, and Mike Hart was able to churn out first down after first down, in large part because of Long's dominance on the left side.

Dan Mozes, West Virginia


Walter: Wouldn't be a complete list without the best offensive lineman from the nation's best rushing team. The quick, undersized Mozes was a perfect fit as the pivot for Rich Rodriguez's spread attack, as he was able to pull and get up onto the second level for most of the year. Perhaps the best lineman in space that I have ever seen, Mozes was primarily responsible for all of those long runs Pat White and Steve Slaton enjoyed all season.

Arron Sears, Tennessee


Walter: Sears was a calming influence on a Volunteers line that was in flux for most of the season. Sears has been a four year starter for the Vols and he will be nearly impossible to replace. Winning this year's Jacobs Award as the best lineman in the SEC only further cements his candidacy for this team.

Runner Up - Tony Ugoh, Arkansas & Doug Datish, Ohio State




Defensive Ends - Gaines Adams, Clemson & LaMar Woodley, Michigan


Walter: Going into the season Gaines Adams was a chic pick for all america honors, and he did nothing to disappoint (unlike the other chic pick, Quentin Moses). Adams was a disruptive force all season registering 10.5 sacks and 15.5 tackles for a loss. Most impressive is that Adams was able to do all of this despite losing several teammates along the defensive front to season long injuries. Even with offenses dedicating two and sometimes three blockers to stopping him, Adams was constantly in the backfield wreaking havoc. Further, his blocked kick and TD return against Wake Forest was one of the most athletic and impressive (not to mention important) plays of the entire college football season.

Frazier: Lamar Woodley is another easy choice. He had 11 sacks for one of th
e defenses, and absolutely wreaked havoc from his end spot. Even in a tough Ohio St. game he was all over the ball, bursting into the backfield and making Troy Smith earn his accolades. Woodley is the kind of size/speed combination that few teams can afford to blocnations bestk with only one man. He has the size to make a difference against the run, and the athleticism to burst into the quarterbacks face. Simply a dangerous player.

Runner Up - Calais Campbell, Miami

Defensive Tackles - Quinn Pitcock, Ohio State & Alan Branch, Michigan

Frazier: Pitcock was the old man river of the
young Buckeyes defense, and he held his young unit together in the early going. By consistently hogging a pair of blockers he created opportunities for Laurinaitis and the talented linebackers to simply read and react, in order to fill the gaps. His senior leadership was vital to a group that was decimated by graduation and players leaving for the draft last year. He also recorded eight sacks, proving that he was a dual threat on the line. Nobody had a better season than this Quinn.

Walter: Branch was the immovable object for the Wolverines all season
long. The big man (and I do mean big!) anchored one of the best run defenses in the history of college football. Though his numbers won't blow you away, Branch constantly required two blockers, thus freeing up teammates like David Harris and LaMar Woodley to make big plays. The emergence of David Harris, who rose from a complete unkown to an all america caliber inside linebacker, can be directly traced to Branch's influence in the middle of the defense.

Runner Up - Glen Dorsey, LSU

Linebackers:

Pat Willis, Mississippi


Frazier: The Butkus award winner is a deserving all american. He was constantly overshadowed by playing on a middling SEC team, and probably didn't receive the credit he deserved until awards season rolled around. His speed and incredible tackling ability made a difference, and he had the Herculean task of making the Ole Miss defense respectable. His team stayed in many games they probably didn't belong in thanks to his type of tenacity.

Jon Abbate, Wake Forest


Walter: Abbate was the toughest and best player on Wake Forest's best unit all season. Much has been made about Abbate's perseverence through family tragedy, and all of the attention is well deserved. Abbate served as the vocal and physical leader for the Deacons all season, and, despite his size, was one of the leading tacklers in the entire ACC. Not enough can really be said about Abbate's influence on a Wake Forest team that faced adversity all year, but still managed to win the ACC. Consider Abbate the Brian Leonard of this all america defense in that his numbers don't even begin to tell the full story.

James Laurinaitis, Ohio State


Frazier: He's a real Road Warrior like his old man. But in this case the road he was patrolling was the middle of the number one team's defense. Completely unheralded heading into this season, Laurinaitis didn't make it here on hype or a marketing campaign. He created those things thanks to his play on the field. His greatest asset was probably his ability to create turnovers, including three forced fumbles and five interceptions. Committing turnovers against a team as talented as the Buckeyes is like handing them points, and he made sure Ohio St. kept on rolling along all season. He added a hundred tackles and four sacks to his haul, but he was at his best when ball-hawking and turning close games into routs for his team.

Runner Up - Buster Davis, Florida State

Defensive Backs:

Eric Weddle, Utah

Walter: There is nothing more to be said about Weddle than his numbers do
n't already say: 58 tackes, 6 INT (including three returns for scores), 2 sacks and 2 tackles for a loss. Wait, what's that you say? Dual threat. Yup, by season's end Weddle was also one of the most explosive players on the Utah offense registering 147 rushing yards and 4 TD, while even kicking in a passing touchdown. Weddle is a rare athlete whose football smarts match his ability on the field. Weddle played every position in the secondary for the Utes at an all america caliber level during the season. And as for anyone who says he doesn't have the ability to lock down recievers at the next level, I urge you to watch Weddle's performance in the Emerald Bowl last seaon when he absolutely locked down Calvin Johnson.

Daymeoin Hughes, California


Frazier: Hughes is another player who excelled at turning other's mistakes into huge opportunities. He had eight interceptions, and scored a pair of return touchdowns. His big play ability meant that many teams simply chose to avoid him altogether, instead of running the risk of ending up on his personal highlight reel. That ball-hawking is further evidence of his unique speed and closing ability. In a conference with as many athletes as the Pac 10, Hughes showed he was among the best.

Reggie Nelson, Florida

Walter: Nelson was consistently the best player on Florida's defense all year. But his numbers
alone cannot do him justice. Florida is in the national title game, but they needed ever single on of his big plays to get there. On the season Nelson registered 50 tackles and 6 INT, none of which were bigger than the two he picked off in Florida's one point win over Tennessee. Nelson even made huge plays on special teams, chipping in two blocked kicks on the year. Most importantly, though, is the fact that Nelson was a steadying presence in a secondary that was shaky at times. It seemed that whenever a team started to drive on Florida, Nelson was there with a big play to promptly end it.

Antoine Cason, Arizona

Frazier: Poor Cason didn't get to really show everyone how good he was. Mostly because no one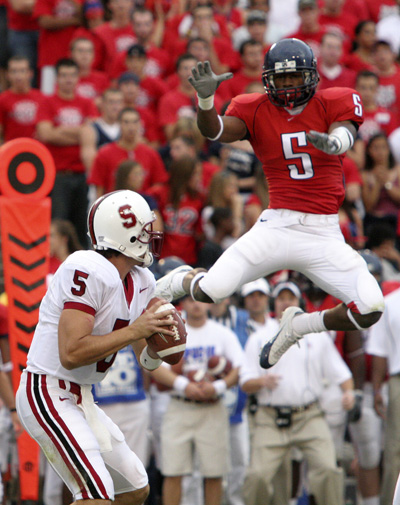 wanted a piece of his side of the field. He consistently locked down the opponents best receiver, and made plays everywhere he could. His statistics aren't terribly impressive, but sometimes that's the mark of a truly great defender. Dre Bly got so many interceptions because everybody thought they could pass all over him. No one thought that about Cason. His three best games were against USC, Cal, LSU, the best teams he faced all year. Let's look at his USC line just to give you an idea of his skills. He had 11 tackles, an interception, two passes defensed, and forced a fumble. That's an incredible stat line. Cason will finally get the recognition he deserves at the next level.

Runners Up - Leon Hall, Michigan & LaRon Landry, LSU